I Didn't See It Coming
William E. Jones
Trade Paperback
ISBN: 978-1-7378428-2-8
Price: 14.95 American
June 2023

About I Didn't See It Coming
I Didn't See It Coming is the dark and exciting culmination of William E. Jones's trilogy of novels set in Los Angeles. The new book begins several years after the end of the second novel. I Should Have Known Better's former art school students and their companions face decisions about whether they should continue their frivolous adventures or begin to lead more conventional lives. As these bright young things approach middle age—and gentrification swallows up affordable neighborhoods—they find themselves dealing with real life in all its unpleasantness against a background of news about the war in Iraq. Due to stubbornness or inertia, the narrator sticks to his bohemian ways, finding work in the porn industry, while his friends settle down, flourish as artists, leave town, or destroy themselves.
I Didn't See It Coming continues the stories of all of the major characters in the trilogy, including Moira, the idealistic leftist who emigrates to Mexico; Bernie, the brilliant but wildly impractical teacher and book collector; Paul, the promiscuous and acidly witty fop; and Winston, the Balkan immigrant who returns to Europe and is catapulted to art stardom. The novel also reveals the fate of Temo, the love of the narrator's life, who disappears under mysterious circumstances at the conclusion of I Should Have Known Better. I Didn't See It Coming is a page turner bristling with energy and brimming with the kind of explicit sex scenes that readers have come to expect from the author of I'm Open to Anything and True Homosexual Experiences.
William E. Jones Reads an Excerpt
William E. Jones in Conversation with Derek McCormack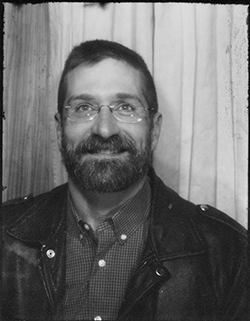 About William E. Jones
William E. Jones is an artist, filmmaker, and writer. He has made two feature length experimental films, Massillon (1991) and Finished (1997), the documentary Is It Really So Strange? (2004), and videos including The Fall of Communism as Seen in Gay Pornography (1998), Psychic Driving (2014), and Fall into Ruin (2017). His work has been the subject of retrospectives at Tate Modern (2005), Anthology Film Archives (2010), Austrian Film Museum, and Kurzfilmtage Oberhausen (both 2011). Jones's writing has also appeared in periodicals such as Animal Shelter, Area Sneaks, Artforum, Bidoun, Butt, Frieze, Little Joe, Mousse, Osmos, and The White Review. He is the author of the nonfiction books Killed: Rejected Images of the Farm Security Administration (2010), Halsted Plays Himself (2011), Imitation of Christ (2013), and True Homosexual Experiences: Boyd McDonald and Straight to Hell (2016); as well as the novels I'm Open to Anything (2019) and I Should Have Known Better (2021). He lives in Los Angeles.